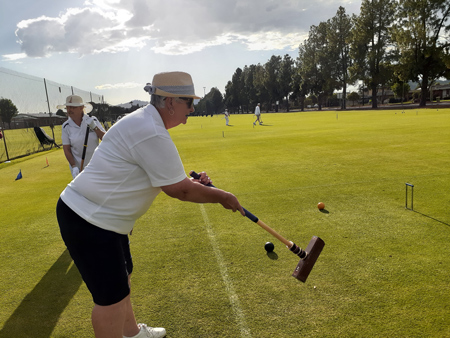 Come along and find out what golf croquet is all about.
You may see us playing at the Tennis Centre in Wodonga several times each week and our sign is above the gate in Melrose Drive.
We offer free lessons on Thursday and Sunday mornings and all are welcome to attend.
You need to wear flat shoes and maybe a hat and sunscreen. We will supply the mallets and balls.
The game involves striking a ball with a mallet through a series of hoops.  The opposition, however, tries to prevent this happening. That introduces a tactical side to the game.
Each game takes approximately 40 minutes. We usually play two or three games, with morning tea. After three games, you will have completed most of the daily steps required to keep fit.
Just contact the club's Secretary, Lorraine Cumming by email wodongacroquetclub@gmail.com or Phone 0401 824 296. You can also contact any member of the Committee (click here) and they will arrange a date and time for you.