Welcome to the Wodonga Croquet Club's website.
The club was founded in 1924. We play on up  to six full lawn courts at the Wodonga Tennis Centre on Sunday, Tuesday and Thursday mornings and Monday afternoons. We are a friendly club with about 40 members and we welcome new members and visitors, from beginners to more experienced players. We also offer four free 'Come and Try' sessions for beginners where you will be introduced to the joys (and frustrations) of the game. And we play all year round.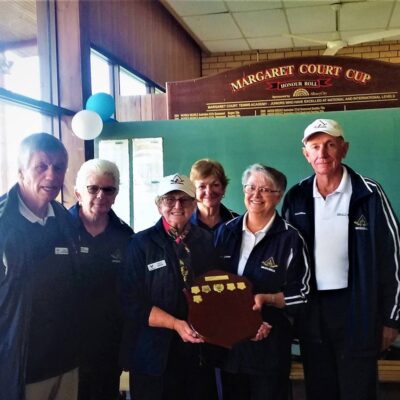 Croquet is a game that is played and enjoyed by people of any age, and on equal terms, by men and women.  It relies on accuracy, precision and tactics, rather than speed and strength. But it also requires some strategic skills. It's a fun way to get some mild exercise and keep the 'little grey cells' ticking over.
There are several different versions of Croquet.
Association is the older more complex and traditional version of croquet and has been played since the 1800's.  It was the only game played for many years. However the game has been overtaken in many parts of Australia by Golf Croquet.
Golf Croquet is a simpler form of Association Croquet and has been played in Australia for over 20 years. It is the fastest growing version of croquet in Australia and is easy to learn but still requires the use of tactics and strategies to win. The game originated as a garden party game in the 1890's and was also played in Egypt in the 1920's.
Richochet – The modern version of the game was devised by Australians John Riches and Tom Armstrong from North Adelaide in 1984 and used to teach school children to play croquet. The game is simple to learn and is rapidly increasing in popularity and uses many of the principles of Association Croquet.
Gateball is another version of Croquet and is a team game introduced from Japan in 1986. Playing courts and equipment are different to other versions of croquet and there are more players per game. The game is played widely throughout Asia and Japan.
To learn more about the different versions of Croquet click here.
The club also has an active social life for interested members. Apart from morning tea on playing days and a sausage sizzle once a month, there are lunches, and the celebration of days like St Patrick's Day, Melbourne Cup Day and World Croquet Day. And there are always the social days.
Our club holds two social days each year. Members from other clubs in North Eastern Victoria attend the day and a highlight is the afternoon tea. The other regional clubs also hold their social days and Wodonga's members can, and do, travel to attend those. Our more adventurous members play in social days hosted by clubs outside the region.
The club competes in an annual Pennant competition where Wodonga plays against other clubs in North Eastern Victoria.
The club's colours are navy blue and white. Members are required to wear the club colours during Tuesday play and when they are playing at other clubs.
The club is affiliated with the North Eastern District Croquet Association (NEDCA) and with the Victorian Croquet Association (VCA).